Written by
Natesh Narain
on
Gameboy Display Information
This post is a work in progress.
General
Screen buffer is 256x256 pixels. Or 32x32 tiles (tiles are 8x8 pixels)
Only 160x144 pixels can be displayed on the screen
Background wraps around to other side
Display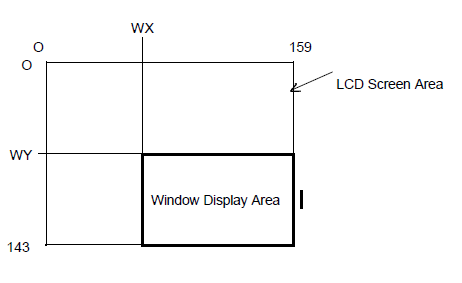 Uses register WX and WY to set starting position of the window display.
Scroll Registers

Scrolls the background screen horizontally and vertically.
LCD Display RAM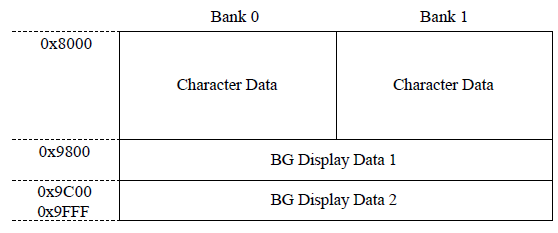 Character RAM
Also called Tile RAM
192 tiles
Each tile is 8x8 pixels. Each pixel is 2 bit color. Therefore 2 bytes per row of pixels.
First byte is LSB and second is MSB
There are 2 Tile pattern tables. $8000 - $8FFF and $8800 - $97FF

First is used for sprites and the background, uses tile numbers 0 - 255
The second can be used for background and window display, uses tile numbers -128 - 127 where $9000 is the center

Select using bit 4 of LCDC control register.
Background Map Data
There are 2 Background map data locations in the memory map. One at $9800 - $98FF the other at $9C00 - $9FFF
Selected using bit 3 in the LCDC control register.
Window Overlay
Tiles can be drawn over the background tiles.
Bringing it together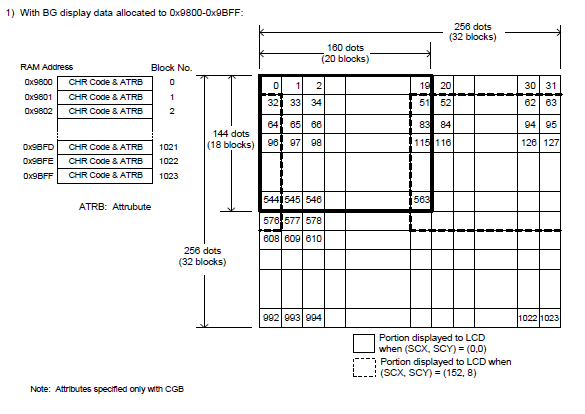 How to read tile patterns for background tile map
Determine which memory range is being used for background map

Either $9800 - $98FF or $9C00 - $9FFF.
Selected using Bit 3 of LCDC control register

Determine Character Data range

Either $8000 - $8FFF (Range 1) or $8800 - $97FF (Range 2)
Bit 4 of LCDC control register.

Iterate through bytes in background tile map range that was determined (1)

If Range 1 of Character Data is selected

interpret byte from background map data as unsigned (0 - 255) and read tiles starting at $8000 * If Range 2 of Character Data is selected
interpret byte as signed (-128 - 127) and read tiles staring at $9000
Character Composition
8x8 dot composition
8x16 dot composition
4 shades of gray
Object Attribute Memory
Used for drawing sprites or objects (OBJ)
There can be up to 40 OBJs
OAM RAM $FE00 - $FE9F
10 OBJs can be displayed on the same Y line
Display data for OBH characters is stored in OAM $FE00 - $FE9F

y-axis coordinate (1 byte)
x-axis coordinate (1 byte)
character code - tile number (1 byte)
attribute data (1 byte)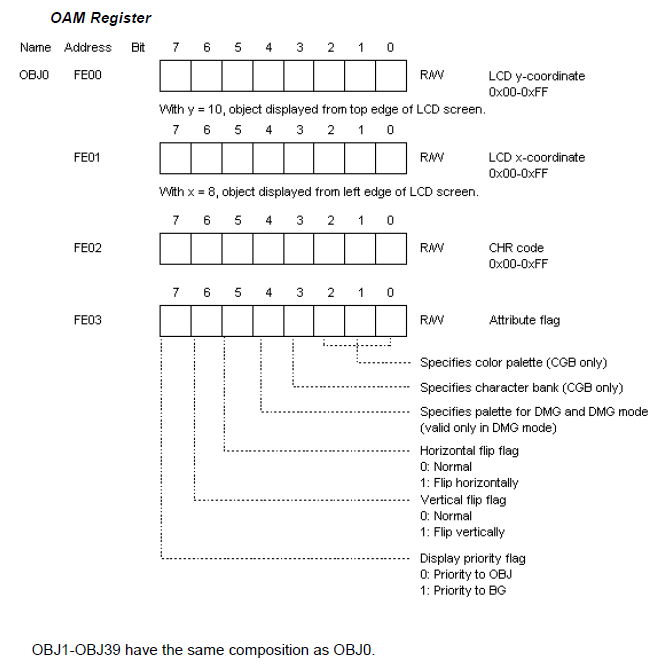 DMA Transfer
DMA transfers 40x32 bits of data.
From RAM area $8000 - $DFFF to OAM $FE00 - $FE9F
In DMG mode, data cannot be transferred from ROM area $0000 - $7FFF
Transfer time is 160 us
Example routine for using DMA